gnomic notes on a dialogue

Posted by 丫 |
reply »
before and after the mooon, a process of reading and writing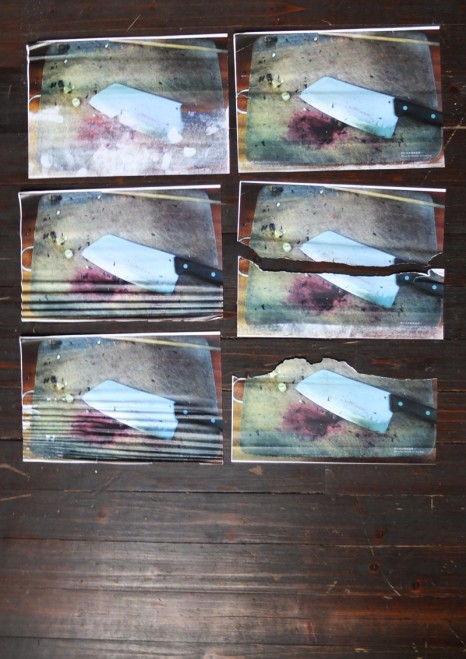 about one month ago, these knives killed the photocopy machine. i was unsettled where they ignored and just kept on working. and then just a few days ago, the moon sliced my computer in two. in all of these aftermaths, yes——"keep working", they said. though i was thinking of you.
————————
————————
————————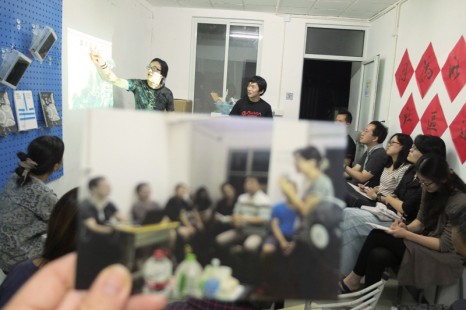 fashionista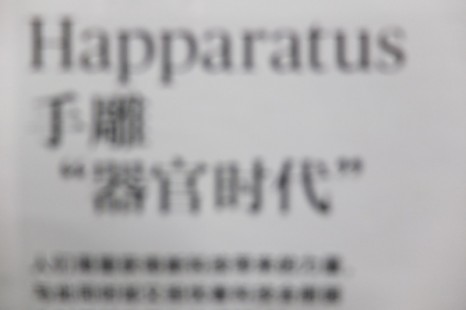 sports babble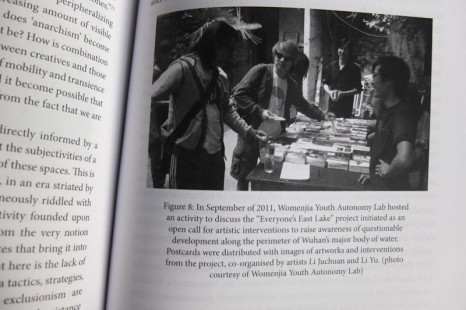 your doctorate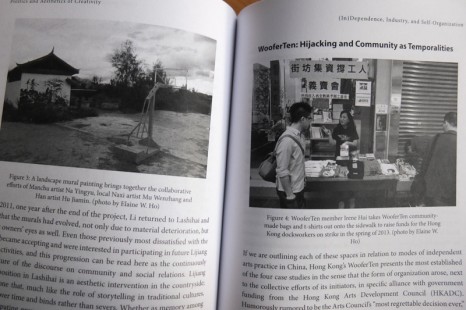 irene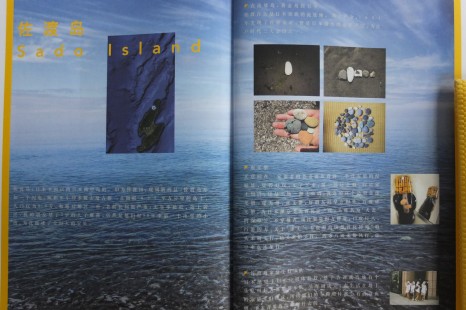 she was this close to you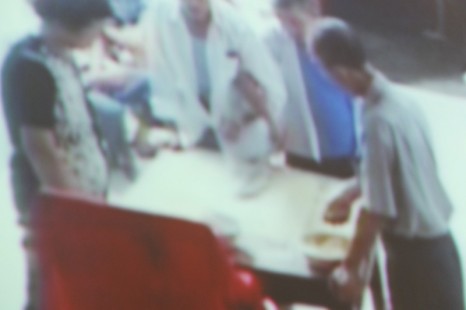 like divination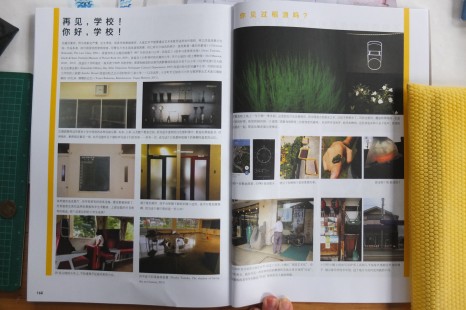 generating,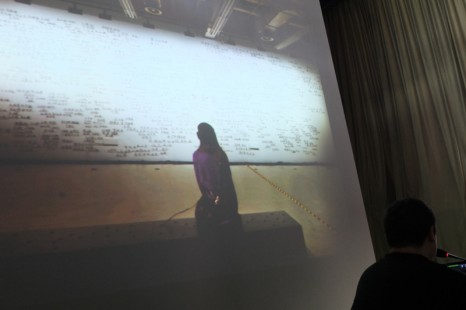 the one who lost interest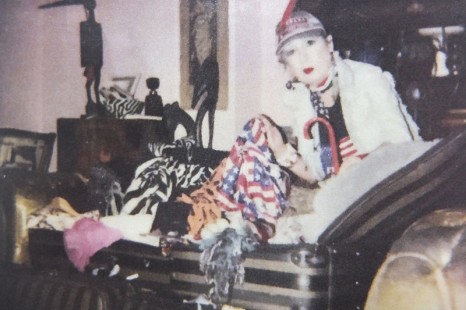 please come over
Posted by 丫 |
reply »
notes on Thirdspace, errant crepe
To enter a space from the critical position is a contradiction of sorts, both an opening and a closing. The body moves forward passively while the mind holds back actively. It is a splintering of awareness, perhaps not so dissimilar to a contemporary condition, bearing and baring a third position, more, wanting to be found, approaching words. I can affirm it again to you here now, as we read, there is something Aleph-like.
I said to myself that I would simply watch the movie. Doubts carrying forward, being ushered into, I followed the direction pointed to by the slightly hunched figure, down a dark parallelogram path towards the light of the screen, looking down once to see the 3 for row number, then back up to see Larger-Than-Life in conversation, a film already started. There were co-conspirators in the packed room, but I did not know where they were. I crossed the cold light reflected on subsumed faces towards the single empty seat in row 2, a quick thought that someone must have taken my seat one row above to be with a friend, then sank down low into the seat. Larger-Than-Life was still in conversation, it seemed to be something about making a film.
I turned halfway around, half afraid to really see my co-conspirators. Something kept me from the spirit of conspiracy, something personal, or perhaps a lack of solidarity. One week ago, they had reminded me of another meeting room from a few years before, with the same mischievous eyes lighting up over the details of planned public disturbance. Piss, shit, throw light in their eyes. But really it was not the boy band instigators as such that disturbed, it was the nomenclature. Co-conspirators were supposedly reading partners, we were told, and we had been reading from Soya, from Los Angeles to Amsterdam to Shanghai, from Thirdspace. The proposition to hold the meeting outside of its usual locale was perhaps an active form of reading, but in question was the lax literation of thirds into cinematic space, only debated in heat against the Space of a clothing store chain dressing room which had recently dominated newstainment chatter. In the latter case, a so-called private space had been tried on as cinematic Space, and a pair's selfie sex on one square meter led to the further reaching destruction of a human flesh search in world wide web space. The publicness of this act and its consequences are marked by the ambiguity of it being a privately initiated endeavour along the lines of viral marketing. As a question of publicity, the dressing room thus warranted a reading, some argued, but in the end, a general passivity among the group met par with one person's insistence to hold the next session of the reading group in a cinema.
Tickets, erguotou, mirrors and glowing wands used at concerts were purchased. A WeChat group serves as organizing device and reading medium, the giggling Thirdspace amidst the Firstspace of the screening room and the Secondspace of Tiny Times. There is an obvious condescendence which carries the absurdity to a high.
At the edge of row two's uplifted faces, I slink down a bit lower, obediently guilty for continuously checking mobile phone activity. This radical opening feels predictably like grade school, and from the inadvertent margin of the second row, I choose to watch a film.
There is a scene in which the struggling director narrates a flashback to his deflated crew, and desaturated color effects drone out the cliché of the director as schoolboy, othered for his invention of a superhero fueled by the power of egg and coriander crepes. As audience, we laugh in a comedic Space created by effect and affects. It surrounds the actors playing actors like a gelatin, wiggling around their low-budget tears of outcast. We laugh while they cry, but everyone identifies. Solidarity is renewed. The film in the film must go on.
Someone in the chat group is counting the number of people leaving the Space. I must have been too absorbed in Secondspace to have noticed, and looking back again to the audience behind me, nothing looks out of place in the frame of vision——simply another imprint of Society of the Spectacle.
This movie has indeed a spectacular way of making us enjoy its cheapness, as it lays bare the superhero genre while keeping all the same tropes intact. I like seeing the texture of his badly crafted mask in high-resolution from the second row, the clumsy choreography of a fight scene traced by zip lines, sappy talk about dreams and ideals from the tops of skyscrapers. It was at that moment that someone in Thirdspace chimed up about his own endurance, that he was the only remaining conspirator among the group, the rest trying to arrange a meeting point somewhere around the nearest metro station after being ousted by security. I thought perhaps we were dreaming the same dream together from two sides of a peak, an unseen cohort and I, but perhaps doubt was my only audience. I romanced myself in the numbness of Secondspace before suddenly falling down a dream of Four, Five. Nobody gets to see the film in the film, and nobody saw me appear! Doubt opens elsewhere, I am overwhelmed counting Spaces. Real pop stars make cameo appearances playing themselves, and it is they, with the thrill of Firstspace, who promise that "the making of" (Five) will be even better than the film (Four). That is how it ends, the rock band walks away, fading into the fiery gases of promise. It is as stupidly bad as I had begun, ironically ushered into an opening and closing. Self-castaway from my co-conspirators in Tiny Times, this was Larger-Than-Life!
Posted by 丫 |
reply »
a two hour space of self-organisation, not-thinking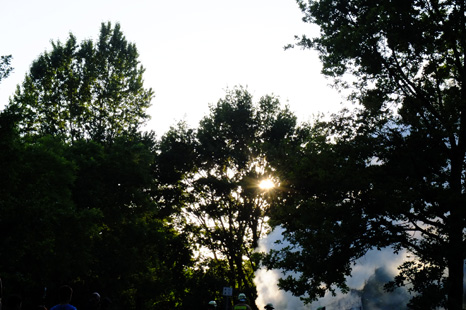 Most of us acquiesce most of the time, because non-thought——though it is powerful——never arises. What should arouse non-thought towards thought, and not-thought not feeling, when does feeling try to be thought, thought through? When does non-thought jump place, to movement? A body of time ruptures at any moment, and in two hours, after so many months, something changes.
Thirteen Minutes Past the Hour.  Arrive late for meeting outside of exit A, Central Station. Have the thought: avoid thinking at all costs.
Twenty Minutes Later.  Ass barely touches the marble ledge when security guard gesticulates wildly: no sitting! Begin to reflect on previous events, not sure why still feeling so disturbed from the evening before.
Thirty-Five Minutes Earlier.  The obstructing woman you come too closely behind while walking up the left side of the escalator chastises you in a patronising voice: "講聲啊呀 You COULD just say something, you know…"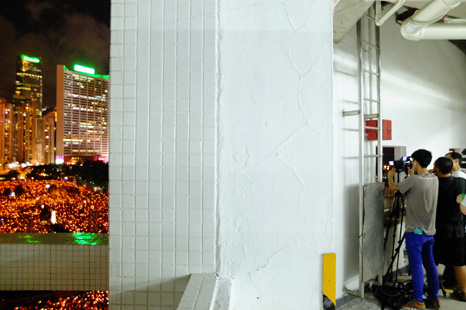 Four Hours and 43 Minutes Earlier.  The sleek-skinned young persona who once told you he has less than two percent body fat appears early before the legislative council to plead against the passing of a wide-sweeping injunction against deemed obstructions of public space. This would include the outdoor seating of cafés, bicycles chained to railings and chess games on the sidewalk. Though he has gone to bed earlier the night before to be ready to make his statement, persona is unsure of himself, knowing it is a difficult topic to debate.
Nineteen Hours Earlier.  A peaceful ferry ride across the harbour under an animated sky, where one enjoys sitting silently next to another, moving with the feel of wind instead of words. To feel what I thought was the lack of any assumption. Maybe this was a guise. But at least you knew already not to tell him you are glad to be back.
Approximately Every 8 Minutes.  Uniformed security personnel from two different companies make rounds with their long, presumptuous footsteps. They wave horribly loud squawking bird machines left and right, shooing away sunglass and watch hawkers and deafening the ears of south Asian women standing around what one would have thought to be public space. People scurry around authority like cockroaches and rats, perhaps exactly because that is how authority treats us.
Fifteen Hours Earlier, A Neighbourhood Meeting.  Sitting as per the usual observer's role and hearing pending-career-change neighbour say that operating the photo developing machine is really a man's task in that instinctive sort of way like driving an automobile. Hearing my own acquiescent laughter at his comment stirs a slow brew that has actually already begun long before, before his pending career change, even before your time.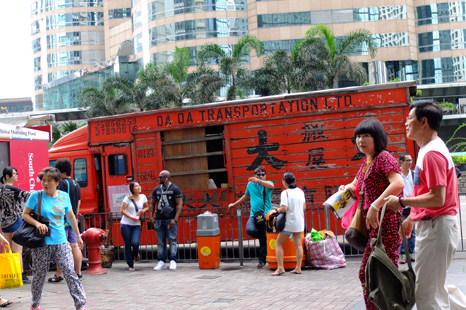 One-and-a-Half-Hour Later.  Lean against a marble-slabbed column, begin taking photos out of boredom. There is a movement of freight trucks playing an extended, illegal game of "Musical Parking Spaces". The nostalgic looking, red "Da Da Transportation, Ltd." truck has moved up two positions in the time since you've been waiting.
Fourteen Hours and Twenty Minutes Earlier, Neighboorhood Meeting.  The one formerly called boss pats my lips and says, "Don't pout". I brush him away and feel the annoyance twisting my face before being aware that I am annoyed. The first rising bubble is pricked, and some sort of accumulated non-thought begins to appear. Non-thought rises like a yeast of years, and recollection begins to fire into the night.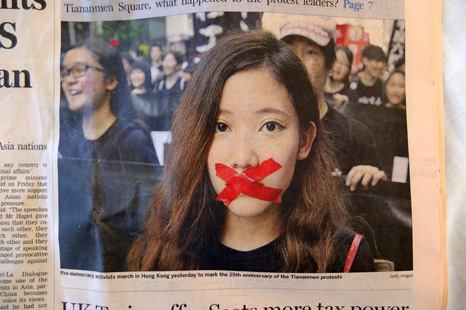 One Hour and 41 minutes Later.  A young woman takes pouty-faced selfies with her oversized mobile phone while moving around different parts of the metro exit. This kind of activity doesn't seem to be a problem in non-public, public-esque space. She takes a couple steps and adjusts the camera angle. She must be waiting, too. I imagine her sending her pouts to tantalise the person she's waiting for.
Nine Hours and Forty Minutes Earlier.  Take the metro home, getting off several stops earlier to escape the one formerly called boss more quickly and pass by the legislative building. Peering over a ledge, one can see through the glass walls into the lobby, where reporters and protesters and police gather. It doesn't look as much like Taipei as it did in the photos posted in their secret chat group earlier in the evening. You walk back to the station but take the bus the rest of the way home.
One Hour and Ten Minutes Later.  A woman with a cropped blouse printed with the giant words "SIMPLY SAY YES OR NO" passes from the escalator around the corner to the street.
Six Hours Earlier.  Ears ringing in bed, cannot sleep. All those instances from months before come brushing back across the lips, those loving little touches of his hand swiping my mouth, patting my head…it all becomes disgusting. Anger recalls in the form of misplaced laughter, a reprimand against the retarded, brewing animal I am. How much more efficient it would be to have deer's tolerance, or maybe one of the government on crackdown. "Justice", they say! I wish for blinded fists swift and made of shiny marble, rather than this mushy, marbled brew of sad self-rage that has been concocted instead. We identify marble by its streaks, and even mushy marbles are variegated, with cracks of guilt for the self-pity that collects like fat on its surface.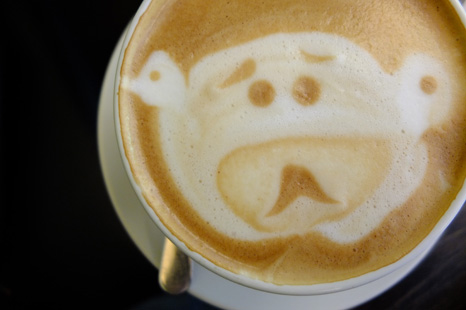 Two Hours After the Hour.  You think it's fair to wait an extra thirteen minutes, since you were late before. You know we won't make it to the island today after all, but at least you have cold marble to lean against while waiting in the not thoughtless, non-thought of brewing weather. Thirteen more minutes waiting at exit A could make a difference.
Two Hours and Thirteen Minutes After the Hour.  You watch the clock as it turns, without so much feeling anymore about the matter. Just silent relief, you can finally walk away.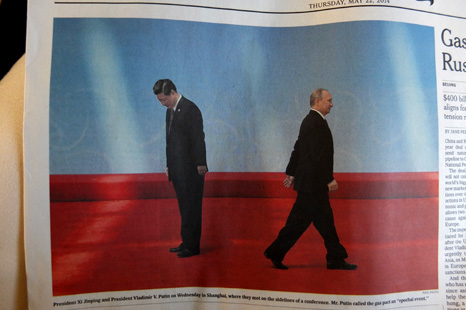 There, a coalition has been formed…

Posted by 丫 |
reply »
notes from the yangtze (holdings), HIT, strike, limited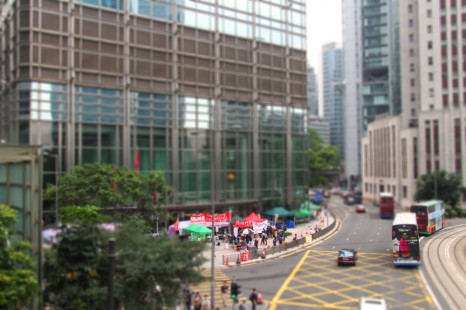 It all started with an image, though one that really came into a so to speak light before it even existed. One sees, firstly. Punctum as a form or attention, filter or framing device——an interruption in the act of seeing which triggers a refraction where association is the flipping upside-down of the mirror as much as a natural stream of thought. Oh. Constantly grasping at words. Try to describe flows, try to pick up words that describe people: 散文诗人, the great essayist, experimental folk maker. One is never enough, of course——artist, writer, activist——but if i could describe to you a process instead then perhaps i wouldn't have gone through it all in quite the same way anyway. Words destroy me, time passes, and in the meanwhile we play a few games.
It all started with a seasick steadicam. It was the bane of those first few weeks of working, becoming one of those challenges that one cannot give up on simply because you've already wasted too much time trying and cannot bear to let go in vain. And those many hours spent walking back and forth the third floor flat tinkering with an orange handsaw arm, PET bottle caps and various metal washers came out of a whim, really, based upon a beginner's rereading of The Politics of Disappearance and moving around in Hong Kong. Movement, restlessness, sitting at a desk overlooking noisy Shanghai Street looking for the right troubleshooting video to make the damned steadicam work as it should. Sitting as restless as distraction, the wrong videos lead to other flows, like centripetally-spinning eggs scrambled inside the shell and shanzhai effecting tilt-shift optics with video and image-editing software.
And we continue to work within that distraction, as if the Cantonese version of looking (眱) already directed our eyes askance, the Scheimpflug principle was made physical as if we were moving throughout the city while laying down. Or seeing through a viewfinder, especially when mounted on a seasick steadicam held at waist-height. Tilt-shift is a subtle change in perspective, and your weak limb makes everything feel more distant, passive but with uncertain intention like sleeping next to someone with their back turned to you. I wonder if feeling distance from these images makes one more of a subject or less of one.
He says, "I am thinking. What if the body were not important?"
We keep walking along an overpass, and she comes to match our pace on my right, listening. She interrupts him at one point, and when she closes her statement with, "Maybe it's an over-interpretation", her body moves away from us while keeping the tempo.
Later while they are opening up the furled black banner in her arms, I say to him, "In principle, we should be free. But with the body there is possession. And with possession there is the basis for all socio-political conflict." We stop at an intersection, in the middle of the street. Some people sit down.
It could have all started from there. He had warned me about getting arrested, but for all the supposed escalation it starts raining and traffic is restored. Everyone shoots images of everyone else. The three-man police film crew make a tilt-shift view, their camera perched on a gaffer pole above the crowd, one with his hands following gently on the shoulders of the gaffer. Everyone is in close proximity; the third is close behind.
She writes, for instance, "the Polis, properly speaking, is not the city-state in its physical location; it is the organization of the people as it arises out of acting and speaking together, and its true space lies between people living together for this purpose, no matter where they happen to be." The "true" space then lies "between the people" which means that as much as any action takes place somewhere located, it also establishes a space which belongs properly to alliance itself.

—Judith Butler, "Bodies in Alliance and the Politics of the Street"
When you look up tilt-shift photography on Wikipedia, you will find an image of Hong Kong viewed from Victoria Peak, as if that particular perspective and reference were made for that kind of displacement; distortions require further tweaking before we realise that the spaces of camaraderie encompass kilometers and the ones around them hone in the millimeters of a lens during public conflict. Focus shifts while waiting in civic procession: a boring walk, intermittent conversation, a hand-painted sign. She asks how we can change the circumstances. It is uncertain whether or not the question is real, let alone try to imagine jouissance or our own semblance. Keep on walking, they say, there's nothing to see here.
Posted by 丫 |
reply »
从最初(爱)的将来时 on the first, future of love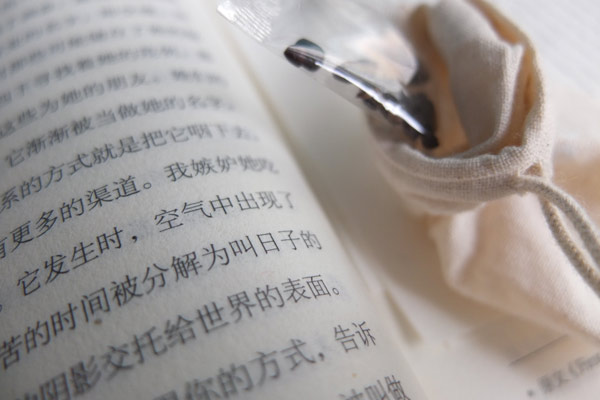 I told her about how your gifts are always somehow a burden. You know I'll keep them, don't you, all this junk offloaded over the course of these years, it's moved with me across the continent and across the city, taller piles each time, folders and envelopes and things scrawled with HB pencil at various degrees.
But maybe this time I can finally part with something, fortunate doubles, two gifts that i already have. One about a month older, given as a free gift at a liquid nitrogen frozen ice cream parlour (fashionable sunflower or more fashionable morning glory?), and the other, just a day or two younger than yours, when I bought the same issue of a literary bi-monthly not recognising where those ripped pages had come from. I'll daisy chain your generousity, hoarder friend, no matter how i cringe inside when he talks about change. and it wasn't even the change which we feared, just the way he said it. haven't you told me many times to let go?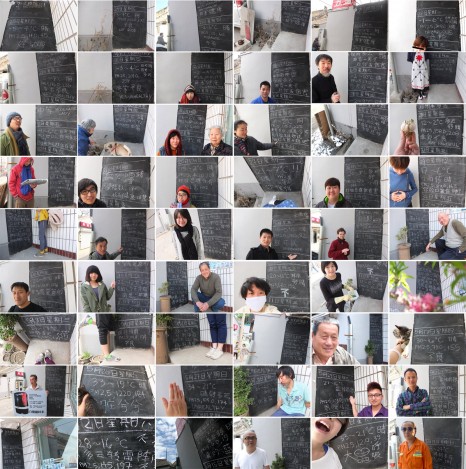 它发生时,空气中出现了叫做天气的变化,而此时低飞的子弹仍然被叫做朋友,痛苦的时间被分解为叫日子的间隔。在那时,太阳仍然恩宠这世界的事物,让它们将偶尔的阴影交托给世界的表面。每天都有些东西掉落在我身上,我的温度改变着。温度是另一种提醒你的方式,告诉你你只是自己,而不是别的什么;它让你和周围的一切分开。那些温度的变化被叫做情绪,它们有着好玩的外国名字,但我已经记不得它们了。对于发生在我身体之外的任何事情我都没有记忆能力。我记不得该如何准确地说这个短语:"我抱歉。"

This was when changes in the air were known as weather, when low-flying bullets were still called friends, and periods of suffering were broken up into intervals called days. Back then, the sun still honored the world's objects by letting them contribute the occasional shadow to the surface of the world. Everyday something fell on me and my temperature changed. Temperature was another way to remind you that you were only yourself and nothing else; it let you feel apart from everything around you. These changes of temperatures were called moods and they had interesting foreign names, but I no longer recall them. I have no memory for anything that happens outside my body.

I cannot recall the precise words for the phrase: "I'm sorry."
本∙马可斯 Ben Marcus,from that literary bi-monthly, on the first, future of love(但汉松翻译)…
Posted by 丫 |
reply »
the light of day – or, the most intense fiery sadness inside the palest of blue
the difficulty of writing. therefore words become physically written entities. are animated by the postures and movements of the hand. the word becomes image. is placed in perspective. the natural rhythms of speech and of reading contorted. a video on writing:
act 1:
the street is where it finally played out, no confining corners of a room, simply a street and a doorstep and a door. a door that remained closed. closed that night and all the nights after. closed for several years. there were a few words there on the street, an evening chill picking up, words uttered from mouths tightly locked into position, not once breaking out into smile, no more spontaneities. now i remember it was an iron. the last object that passed between us. an iron. your iron. my iron. no ironing board. the irony. an iron with no more spontaneities. all those years summed up into the exchange of a single iron. a pink iron.
act 2:
you entered the studio that day and it filled the room. eyes locked and we understood. a kind of understanding that was hard to come by in those days. "we paid people 50 kuai to cry". leaving the party early i cycled to the apartment that night, shared by several, it was only you there, you and a dvd menu on loop, the same jingle over and over again, you kept emphasizing the word 'taken', 'taken', 'taken' – i guess it was the opposite of what i was getting – the other word that night 'transgressive' – you and bataille – he and whitman – i couldn't do it – sorry bataille – sorry whitman – i couldn't do it – so much for 'transgression' — whenever i revisit the room, you are both there, bataille and whitman, bataille, whitman and me and the king-size bed. the torrent of words finally gets me writing on afternoons alone in the house, just before the onset of twilight.
act 3:
a gallery space, half emptied out, i keep going back there, the mounted and framed photographs are placed on the floor, leaning against the wall, a few are supported by the pillar in the middle of the space, you try to get them to leave, to let them leave us behind, but there is simply no subtle way of doing it and you mutter at them clumsily, they leave, we are left, the afternoon sun is slowly disappearing, the lights are left off, we talk, walk around and shout, until we settle behind the reception counter, a chair and a wall for support, we can do this but we can't do that, what do you want from me? don't ask that of me! she tells me his knees were shaking all the way on subway ride back home, i was never shown shaking knees. now, i only ever meet you in that gallery space. we don't exchange words just glances and parts of our bodies in a deafening silence, the afternoon sun perpetually setting.
act 4:
an early spring evening, i keep trying to leave: "i have a party," "a party to go to," "a housewarming party", but something keeps me at your side all night, first we sit at the "less important people table" and are seated next to each other, after more guests stream in we are both upgraded to the "more important people table", again placed next to one another. what luck! finally settling into a comfortable position we continue our conversation, your leg brushes against mine a few times, i recall her remark about "woody men". and i can't stop staring at the eyes. can't stop. the whole night – no rooms here, but the chambers of eyes to revisit "an intense fiery sadness" i describe to her later "inside the palest of blue".
.
reply »
THE WORK (for 絵美 and a friend of hers, and for everyone amidst iwishicoulddescribeittoyoubetter)
How could this be institutionalised? In describing, putting the words to entities, in finding vocabularies and knowing where to look, we are trapped already. How couldn't we be? Should I write such that you never understand; should I make work that never needs to be seen; should anything other than question marks arise?
Is this a work? Would we rather toss it all off to a little game, scoff at those who take themselves too seriously, never be so ridiculous as to consider the nests of "art" and "life"? Are the words one is using as important as the to whom one is speaking? "What is the work of man?" And why not say it, invest oneself with intention, make the attempt? Flail? This is not an institution, as could it ever be, with time, with the fulfillment of certain criteria of Work. We are tied to a production as always, since before we were aware of it, since we were animals. And the guillotined bumblebee, as Agamben asks, is he as busy as ever, do we continue amidst work, does time fly when…?
Should anything other than question marks arise?
What-is-the-work?
Should the work be defined by a trade, a certain amount of craftsmanship, the ergon of man, a list of projects and venues to which one must be flown? Does work define our activities or does activity define work? Why should vita contemplativa be placed above vita activa in a society with no God? Is this the captivation of the bumblebee, are we productive enough, should we make particular dialogues in work-group fashion? Because if I play, or if i dangerously mix words like "art" and "life", like you know, when
Every afternoon he goes there to see a big painting for two hours, and he says, 'I'm doing the work to see the work'. That's ok, I think it's no problem. He did another work where he pays for three months of traditional Chinese music lessons, on the erhu.  – 马永峰 MA Yongfeng, Forget Art
Can a situation be Work? Our particular arrangement to one another, did you try that out, were you networking? Is the amount of control in any given situation a Work? Is control a result of the fact that there is no one around to help us, or that we are 'mere' fascists? Is the controlled situation a place of God or science or politics? Why do you question, why go beyond captivation? What did you question, what did you create, where did you control the situation and where was spontaneity a lie? 艾未未 AI Weiwei calls it the "vocabulary" that "can also be the total meaning of the concept"; Pierre Huyghe says a one:to:one ratio of idea:to:form. These are control experiments, perhaps, but not without the certain seepages that blur the distances between the Work and our ethics, our politics——our everyday. We take ourselves too seriously. In the fullness of the situation, yes. And yes, he is right, we could not presume it to be so before its occurrence, where there is thus the very small moment when the lack of control has perchance to touch upon the work's going beyond itself. An eventfullness…
Have we said too much already? Really, should anything other than question marks arise?
Are these thinly veiled treatises, and what have you really got to say?
Stopping oneself… (slow, slow loading, please be patient)
Posted by 丫 |
more »