i miss some of you some of the time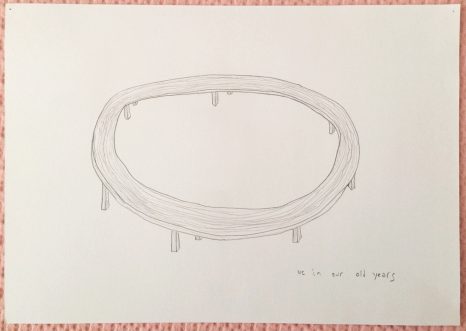 sketch from 《公众 PUBLIC》, 2008-2009年
iwishicoulddescribeittoyoubetter went online in the first month of 2006 and the first post was backdated thematically for the 31st of December, 2005.
it could all be a lie, making long sentences and abusing commas, for over ten years now. i wanted to make a book, but she could see no reason for more excess of materialisation, another she and we just never have the time. the service desk of on-demand distractions is backlogged, piled up. and there goes…
there is a lack of reason for loose configurations, too, here and there encounters, wanting to overhaul, but remembering where you came from.
HE SHE WE THEY YOU YOU YOU I HER SO PRONOUNS TO
BEGIN THE
DANCE CALLED WASHING WHOSE NAME DERIVES FROM AN
ALCHEMICAL FACT THAT AFTER A SMALL STILLNESS THERE
IS A
SMALL STIR AFTER A GREAT STILLNESS A GREAT STIR
—Anne Carson

all love and dust to the other roundtable of 王尘尘 Cici and 刘心宇 LIU Xinyu this month.
Posted by 丫 |
reply »
writing oneself: the institute for spatial experiments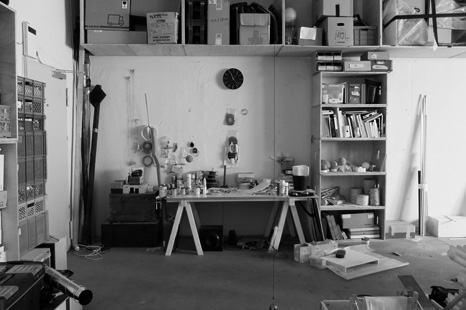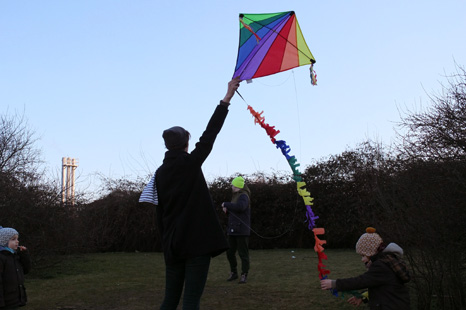 It could be said that these stammering movements begin egocentrically, not unexpected, as an awkward, unskilled dervish of thoughts, curiousities and flying trajectories (from me) of things trying to find their place. In other words, I am writing myself in this conversation, between you and me. What we do not know about one another has a context embedded in a structure known as art, or the institution, or the awkward banter of appointed meetings. I write myself in concentric circles that could fly through you or past you, and you may do the same, depending upon what could be put into words, where words may embody bodies and bodies circle around one another.
There is a book somewhere called Speech Matters, and in it an artist parenthesised as R.G. wrote this for his biography:
What is a biography, if not the markings of certain habits, born here, did that, a sentence or two about the ideas or questions one is concerned with, details, places of study, cities lived, a list of 'accomplishments'. How to punctuate and elaborate a habit, until it breaks, cracks open, begins to stutter, bleed, set itself afire, and disappear into a crowd. She said, a word or two different, a small mark, to say, nothing more intimate in saying no, stopping, refusing. Why not have this book write a biography of itself. Why not a language give an account of its life. Here I said this. Here it did that. Here she died, at this date, at this time, at this place. Here she was, when everything came together and folded. Here she did this work which would never live up to anything but what an other would make of it. Where to find this other?
I have seen other versions written elsewhere. If we meet, of course it's only one of any possible.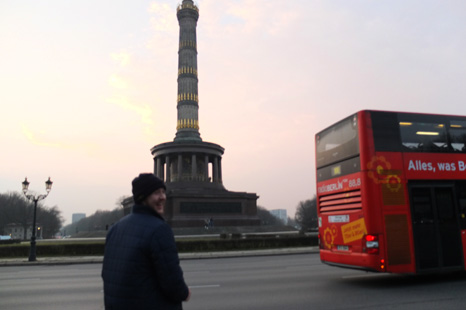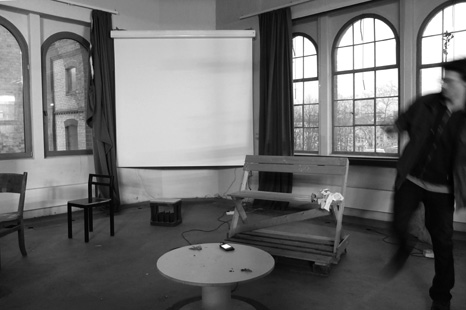 Posted by 丫 |
more »
third spaces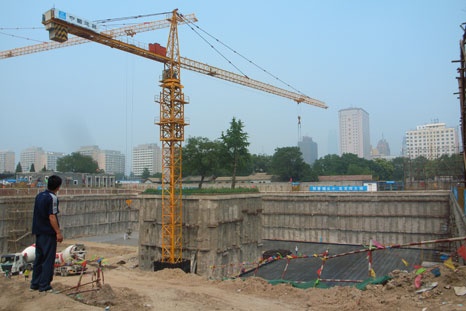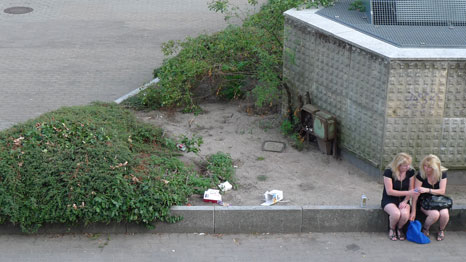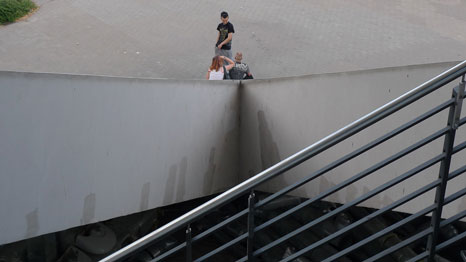 Posted by 丫 |
reply »
through the words a little daylight still passed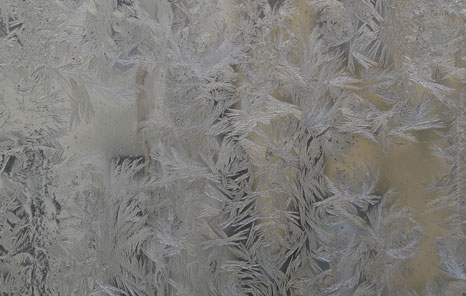 Posted by f |
reply »
sunday morning, atelier of modifications, waiting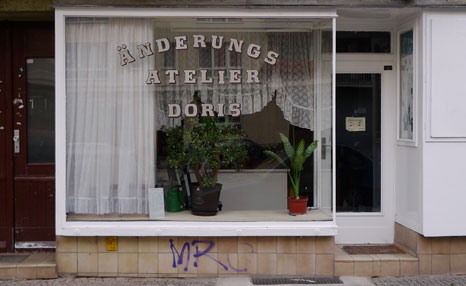 "to wait, to make oneself attentive to that which makes of waiting a neutral act, coiled upon itself in tight circles, the innermost and outermost of which would coincide, attention distracted in waiting and returned all the way to the unexpected. Waiting, waiting that is the refusal to wait for anything, a calm expanse unfurled by steps.
he experiences the impression of being in the service of an initial distraction that would let itself be reached only when dissimulated and dispersed in acts of extreme attention. Waiting, but subordinated to that which could allow itself to be awaited.
to wait seems to signify for her the relegation of herself to a story that she would make it his obligation to carry through to the end and that must have as its outcome its progressive movement towards a goal. the attention should be exerted, so to speak, by this narrative in such a way as to draw it slowly out from the initial distraction, without which, however–he senses it well–attention would become a sterile act.
to wait: what did he have to wait for? She manifested her surprise if he asked her this question because for her, it was a word that sufficed on its own. As soon as one waited for something, one waited a little less."
– maurice blanchot, awaiting oblivion
Posted by f |
reply »
will the summer make good for all of our sins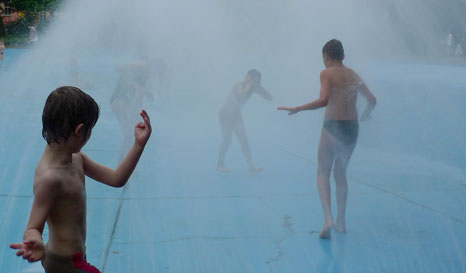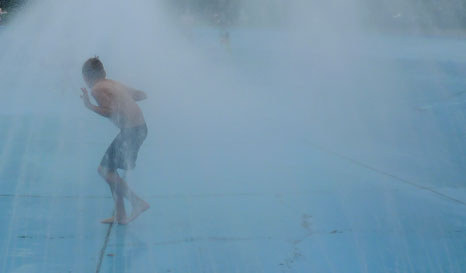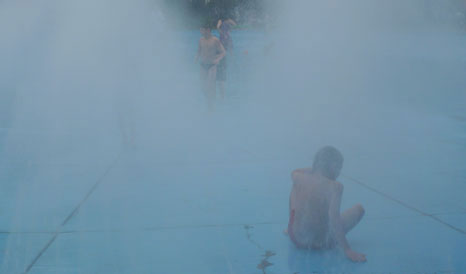 Posted by f |
reply »
women chopping wood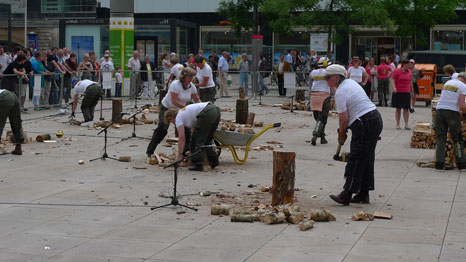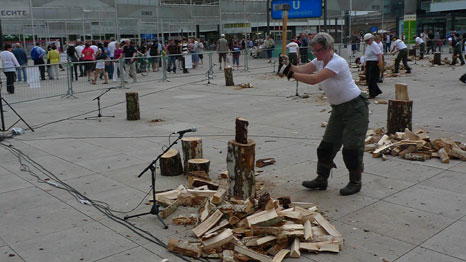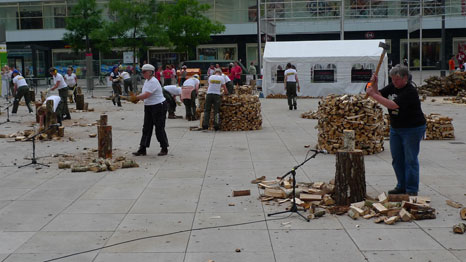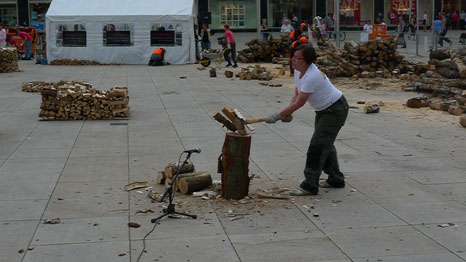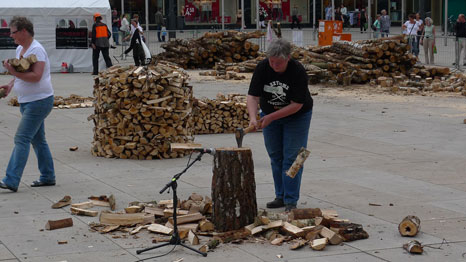 a live installation by choreographer Dorte Olesen, yesterday in alexanderplatz, berlin:
"15 Swedish women will travel to Berlin to meet a group of German women. They will have three days to complete their task: transforming 30 cubic metres of logs into imaginative woodpiles. The challenge includes co-operation, communication and getting to know one another across language and national barriers."
Posted by f |
more »
cutting down the tree while you're hanging from it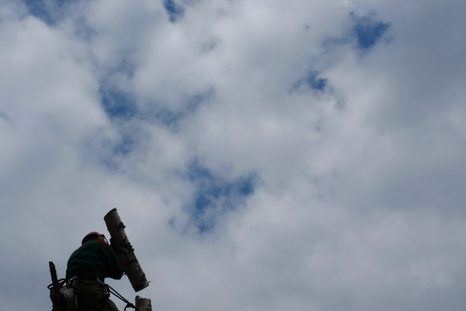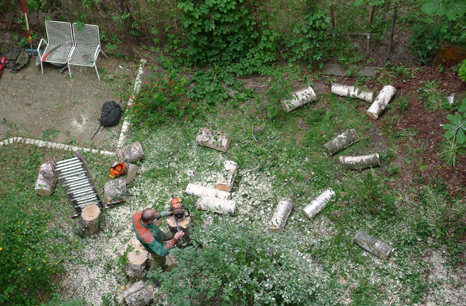 Posted by f |
reply »