spam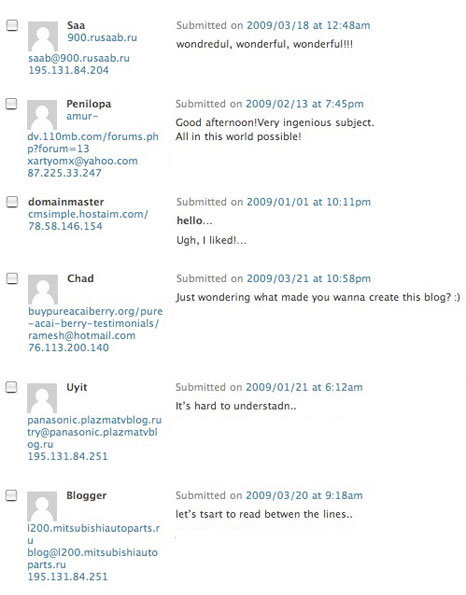 (looking through the spam folder, in lack of other responses (sigh), oh the things you discover in the trash..! but i wish you would say something, dear reader.. how are you today? here it's cold and grey again, they call it the summer.. hmm.. time for more coffee now, a soft-boiled egg.. good morning!
oh and please make sure to let us know in case you are 'saa', 'penilopa', 'domainmaster', 'chad', 'uyit' or 'blogger' and your message mistakenly ended up in our spam..)
2 Responses to "spam"
• jerry Says: June 23rd, 2009 at 9:51 pm


i am out here, looking in, usually quietly. but, i look in and thoughts always pass through my mind. the posts always create a response within. but, the filters being what they are, those responses often times don't have the power to find a form. they settle as memory and vaguely softlogical emotions. often my favorite kind of emotions.

but, thanks for confronting my passivity.

ironically i always must fish "iwishicoulddescribeittoyoubetter" from my spam.

• f Says: June 26th, 2009 at 10:16 pm


hallo jerry, thank you so much for still fishing us out of your spam and for looking in, letting in..
i guess this site for me is exactly about this attempt to allow some things to pass through the filters, let thoughts and feelings find a form, for a little while, before they disappear again into memory or into oblivion.. i'm very glad your response made it through the filters this time.
Leave a Reply
You must be logged in to post a comment.