the sum total of five years of cultural exchange or the life-span of an american apparel store in beijing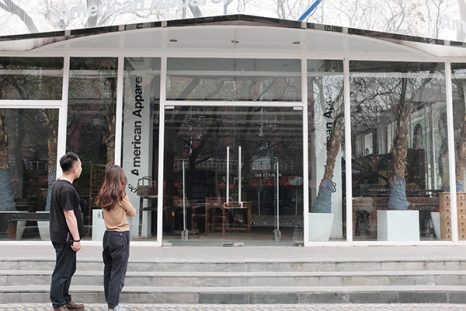 congratulations for your up-cycled changes. it's official! enjoy what's to come. what a beautiful switch. all the best for this beautiful adventure and thanks for all your input. we don't know each other well, but I think you meant a lot to them. and seeking new challenges is good (I'm not so good at that). working in the heart of culture, i'm sure you will thrive. sad you are leaving but it's good that you were able to do so many good things. good luck with future projects. congratulations. i'm sure we'll see each other. congratulation on your new challenge. if you ever pass through vienna, i would be glad to meet you again. how are you! it is really a surprise to hear that you left! but sometimes it is good to change. wish you all the success in your new work! :-) all the best for your new job. you're staying in the city? thanks for this email! how exciting that you are off on new adventures! wish you all the best. it was always a pleasure to work with you. wishing you all the best with your new job and who knows it might bring you to qingdao one day. congratulations. the bullet is through the church, beautiful. good message. speak soon. (well, since i said that you probably don't want to, but anyhow i had to). though if you really take that job, i'd find it a big step down, what a pity… hope to see you, i think i will be in asia until june. great news! good luck with your new challenge. thanks for your support the past years. keep in touch and see you around. we may have never really interacted that much, but i know you for a long time. it is very sweet to receive this email of yours, and glad you are moving on to a new adventure. hope you can keep me posted of your projects. in whatever cases, i always feel content and happy that our encounter can still last in beijing, where clearly a lot of comes and goes happen in a way that emotional connection can be so shifty, big hug and congrats to you and j. wish you all the best. congrats with your new uptake! was always a joy to work with you. wow, new position sounds good! it was always great and inspiring to work with you! keep me posted, best of luck and till soon! thanks for your mail but especially also for your work the last few years there far away. it was probably not an easy decision to leave, however the new challenge is a good one, wherein you would again be able to mediate. whatever happens, wishing you success! our grant application went well! thanks to you! good luck! probably see you soon. good luck with the new challenge, whatever it may be. i must say i miss the city a lot myself and hope to come by again soon. i can imagine that even after five years you still want to stay and so take on a new challenge there. i wish you the very best for the future. from my side, many thanks for the pleasant cooperation. wishing you all the best and congratulations with the beautiful job. hopefully see you again in tokyo or beijing. so sorry to see you leaving us, but I'm sure we'll meet again! lots of success in your new job wherever that may be. and of course many thanks for your contribution and support to our mission. this is the year of big news! life is always more exciting and challenging when you shake the tree. as you may well know, we are still searching for the right partner for our own adventure. if ever you would be open to discussions on this topic, please do let me know. i am sure you well know that they are on a rocky road so maybe if you do in fact decide to stay and go for it it could be very interesting in the short term, but it is not sure at this point how long the venue will continue. there is certainly a lot happening these days in China and especially within the realm of design. looking forward to hearing from you and good luck with the new chapter in lifetime adventure. many congratulations with the job! hopefully we may still see each other in china. well that sounds like a challenging move! good luck and enjoy :-) enjoy your new workplace. wish a lot of success with your new plans. for me it was nice to have met you. the support helped a lot. on the 20th of may my solo exhibition opens in the two cities gallery. you are of course invited. all the best and good luck in your future endeavours!! congratulations on the new job!!! i'll be back in april and would love to catch up :) i'm sure the new you will also be great at welcoming artists and creative projects. it remains a bizarre thought… good luck today and enjoy it for now. and the new position sounds like it was made for you (but the other thing sounds good tooooo – what's that??) thanks for your message. no, i didn't know you were leaving. five years is also a nice term. lots of success with your new job. all the best. i'm really happy for you! wish you all the best and do let me know when you are happen to be in shanghai someday in the near future! much luck, love and success. i admire your steps en we keep in touch, for sure! thanks for all your support and you're always welcome in jingdezhen, amsterdam or wherever we may meet. it's truely sad to learn that you're leaving, however, everyting will come to an end and we have to move on for new adventures. taking this opportunity, i'd like to thank you for all the work you've done for us, and for promoting bilateral cultural exchanges and cooperation as well. we wish you every success in your fufure journey. thanks for the news! and good luck with whatever comes next… nice! congratulations and wish you luck with your upcoming engagement! thanks for all the help and see you a next time! with many congratulations and best wishes for your new appointment. p.s. i hope that my health will one day allow me to return to china. i miss everyone dearly! congratulation for your very likely new position. that's great, good for you! i'm working on a show next door this summer. let's ketch up. thanks for your kind and touching email! i think it is great news that you will be directing such an insteresting institution. i am sure you will make an amazing work there. you will be most probably getting some news from me in the near future. i wish you the best and good luck in your new position. great news! success with your new challenge. thanks for your support the past years! keep in touch and see you around..:)!    congrats with your new appointment. i had the pleasure of visiting once, and that's a cool place! it was a pleasure working with you, and we continue to have the opportunity bumping into each other at beijing events! thanks for the cooperation and nice that you've found a new place! wishing you all the best! we of course wish you all the best and many thanks for your help and input the past years! it was nice to have such a contact at such a place! hopefully our paths will cross again sometime, keep us posted on nice things! wonderful to read about your new adventure and good that you'll stay in beijing. i hope to be there again from july 1 for a period of 6 months. i'm sure we'll run into each other at some point. shortly i'll write your colleagues discuss how to obtain a visa. i was told that they would write the letter. my host seems not to be officially registered in China. coming wednesday at the chinese school in amsterdam i'll tell my classmates at the beginners course in chinese something about q, the origin of her name, the collaboration, the differences between us and the book. the day after that new drawings from series will be shown, herewith the card. the series is part one of my new china project on which i want to work further in beijing. thanks for the pleasant collaboration, and lots of success and pleasure with your new steps! nice successor you have ;) lots of success in your new phase of life! perhaps we'll see each other soon in beijing :) enjoy it there! congratulations! apparently still the place to be? certainly, otherwise you wouldn't have headed there, haha. i also once too was able to take b. there for a nice lunch with chinese artists, h. and the like, about freedom of speech. was a reasonably good conversation and i gained more respect for b. lots of success with your new job there. i know that t. and his girlfriend j. also started there way back, but more physically there because it didn't exist there yet. that was in the time that the first and second festival was co-organised by them, long long time ago. did you speak to m. at any point or do you still speak to her? i hope she is okay personally. hope that that didn't cast a nasty dark shadow over your work although it must be strange to see your direct colleague on the front page of the paper. it even threw me. again, enjoy it there, try to keep your head cool (amongst all the art snobs and italian art phds) and enjoy everything you see and experience. soooo important. perhaps only in retrospect you realize how special everything you experience is. thanks for your message. i had indeed heard some things. i understand your move. from your message i gather that you prefer to stay in china. wish you success and who knows we may see each other again. first of all of course many thanks for your support before, during and after our visit to beijing! very good that you'll remain in the city and exciting that you (probably if i gather correctly) are going to work there. is it known yet whom the new owners will be? and will p. be your new colleague? in any case: lots of success! a pity to hear you are leaving. but also good to hear that there is an interesting and challenging job waiting for you. i wish you lots of success with that and hopefully we'll still bump into each other. congratulations with this beautiful job! nice for you. i wish you lots of success and hope it offers you new inspiration. perhaps we'll see each other? good luck with your departure and the new roads you will embark on. keep me posted. it was great to work with you in 2015. the project wouldn't have been there without you! keep us posted on developments! seems like a fantastic challenge in light of the changes ahead! good luck! sorry to hear that you are leaving the five-year position. congrats on moving on to the next level! good luck with your next step, give it that or any other better offer! look forward to seeing you again! nice one for j.! thank you for your kind mail and big congratulations on the new adventure! it's been a pleasure working with you all these years and hopefully we can still collaborate in the future (hat-making workshop as public programme perhaps?! hat-exhibition?)!! in any case, it sounds exciting! they used to sell my more-crazy hats in the gift shop. my contacts were s, a, store manager r. and others. but they may not be there anymore! enjoy the new challenge!!! 5 years is indeed some time. good luck there (if that's what it became) otherwise at another company!!! if you have any questions, feel free to contact me. look forward to hearing from you. it was a bit of a shock when we received your e-mail. our point of contact is leaving. but when we read on we saw that you are moving on to a beautiful new position. it will take some getting used to in the beginning after 5 years of being engaged in your current work but people should not avoid new challenges in their lives. we want to wholeheartedly thank you for the pleasant cooperation and the support you gave me last year. the cooperation was pleasant and went smoothly and i appreciated very much that you came to visit as well. but also that you informed and encouraged me to participate in this new show this year. thus i handed in the application form and the description of three works. in the information papers i read that the selection would be announced at the end of march. when i hadn't heard from them by then i wrote a short mail to the organizers asking whether i had been selected or not with regard to the planning of other shows. i received the following reply: "thank you for your attention. we are busy reporting all the materials to the ministry of culture for approval. after that, we will inform all the selected artists about the final list. maybe in may". kind of funny, the ministry of culture, which gave me an award, now has to give the approval. it remains exciting. again, wishing you success with your new position, also from my husband e. and we hope to meet you again in that city, which we came to love so much. congratulations with your new position. that sounds great! looking forward to meeting you there soon! good luck! it sounds very exciting! thank you for the support you gave us in the past. i hope to meet you soon again there and maybe work together in something else, who knows. wow great news! it will be great for you and you will have another interesting journey ahead, yes stay with us please, breath more air with us as we so need you here :-) stay in touch and let's catch up sometimes if you're free. i am much freer nowadays, enjoying the motherhood one more time. how exciting for you! it makes me happy to read your email. i wish you success with your new adventure and i really hope i see you again in not too long. congratulations a., what a loss for them. good luck with your new life choice, can't wait to hear more. just saw your email. congratulations to your new adventure! it's cool to see you moving on. let's stay in touch! congratulation for your new position. wish you beautiful career transforming, cherish and keep touch! big change! have fun and let's catch up soon! heard it was your last day today. strength to you for saying goodbye and enjoy your new step. lot's of success with your new challenge! i am just back in the office from a short holiday and saw your email. congratulations!!! happy for you to get on the new adventure. good that you are still there! be in touch! and meet up whenever there is a chance! hi dear, got your e-mail! wish you a great start there! good to hear from you, and what a nice new position! i wish you lots of success with it, and perhaps our paths will cross again, there or elsewhere. may i keep you informed of interesting news or when we may head there again with our summer sessions? this summer we're going to tokyo, also nice… hi, i wish you the best of luck with the new steps in your career! i'm sure it will be a great adventure… i'm actually in china at the moment, we're on our way to tibet, but unfortunately will not be able to make it to beijing this year. after tibet we'll go to hong kong to research job possibilities :-) keep in touch! hi, so nice to hear from you and many congratulations with this great new job! probably wasn't easy to take this step.very cool! for a moment i thought you wrote you were going to amsterdam, but this sounds much better :-) i still work at the same place but it's starting to itch to do something abroad. my boyfriend is in oman now for work, it also offers new opportunities. and hopefully back to beijing in future. anyway: lots of fun and success.
love, all.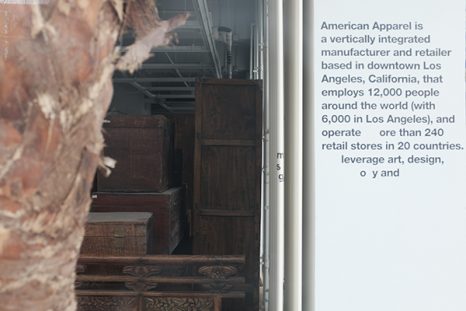 .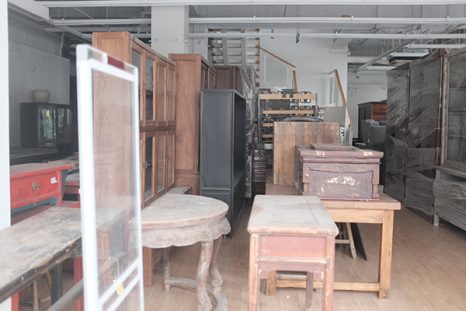 .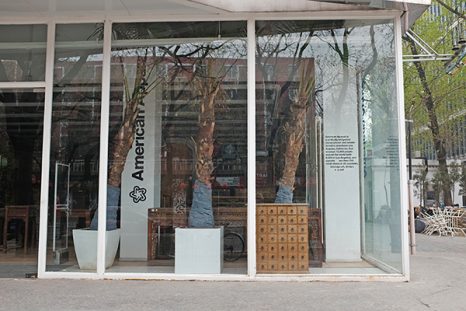 Posted by a |
reply »
一天的二十八周年 the fourth of june, 28 years old
这一天,我们坐在阴影之中、学习了一下围棋、同时聊了一会儿天。这一"天",一个关于公共空间的一天、关于象征性行为的价值的一天、以及与孔子对比庄子靠个体(个人)社会的一天。
on this day we sat in shadows, tried to learn how to play Go, and had a talk about public space, the value of symbolic acts and Zhuangzi versus Confucius' possibilities for a society that relies on the individual.
这一"天"貌似与任何天的一样,日落时观众开始围绕旗杆等看降旗。穿着白上衣黑裤子的一小队广场卫队进场,队长在按节奏喊"下!"队员便棋子般一个一个被"下"到看客周围的固定位置上。象征性貌似也在呼应我们,所以我们再下了一盘大棋。
the close of this day appears to be like any other day, where an audience crowds around at dusk to watch the daily lowering of the national flag. black and white-clad guards march in, and their commander shouts, "xia!" in a timed rhythm, releasing them one-by-one like playing pieces in stationed positions around the perimeter of tourists. Symbolism acts back upon us, and we play another game of go.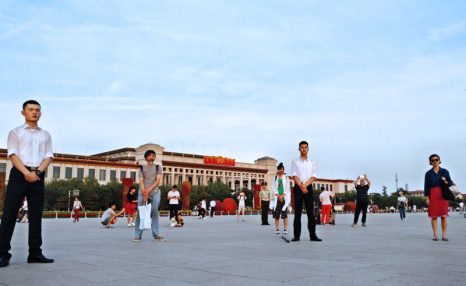 摄影:大米
Posted by 丫 |
reply »
i miss some of you some of the time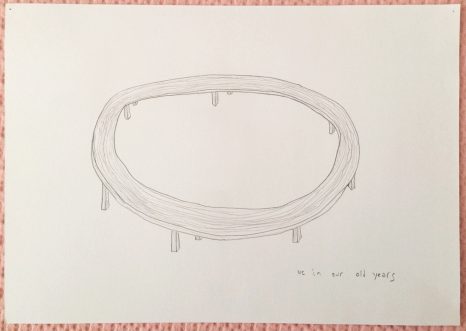 sketch from 《公众 PUBLIC》, 2008-2009年
iwishicoulddescribeittoyoubetter went online in the first month of 2006 and the first post was backdated thematically for the 31st of December, 2005.
it could all be a lie, making long sentences and abusing commas, for over ten years now. i wanted to make a book, but she could see no reason for more excess of materialisation, another she and we just never have the time. the service desk of on-demand distractions is backlogged, piled up. and there goes…
there is a lack of reason for loose configurations, too, here and there encounters, wanting to overhaul, but remembering where you came from.
HE SHE WE THEY YOU YOU YOU I HER SO PRONOUNS TO
BEGIN THE
DANCE CALLED WASHING WHOSE NAME DERIVES FROM AN
ALCHEMICAL FACT THAT AFTER A SMALL STILLNESS THERE
IS A
SMALL STIR AFTER A GREAT STILLNESS A GREAT STIR
—Anne Carson

all love and dust to the other roundtable of 王尘尘 Cici and 刘心宇 LIU Xinyu this month.
Posted by 丫 |
reply »
for what is not heard in one ear goes through the mouth and circles all around
2012年3月,某一日 (for mister e, come back soon. for haxi, welcome back.)
Posted by 丫 |
reply »
that day of the year 就是那天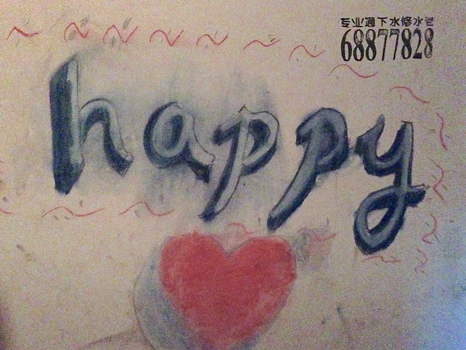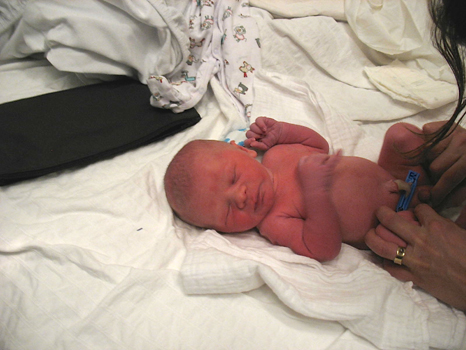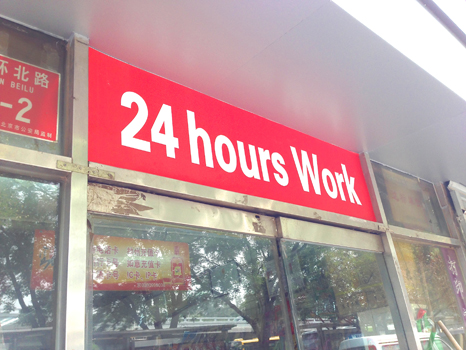 iwishicoulddescribethatbirthdaytoyoubetteritsbeentoolong.
Posted by a |
reply »
the light of day – or, the most intense fiery sadness inside the palest of blue
the difficulty of writing. therefore words become physically written entities. are animated by the postures and movements of the hand. the word becomes image. is placed in perspective. the natural rhythms of speech and of reading contorted. a video on writing:
act 1:
the street is where it finally played out, no confining corners of a room, simply a street and a doorstep and a door. a door that remained closed. closed that night and all the nights after. closed for several years. there were a few words there on the street, an evening chill picking up, words uttered from mouths tightly locked into position, not once breaking out into smile, no more spontaneities. now i remember it was an iron. the last object that passed between us. an iron. your iron. my iron. no ironing board. the irony. an iron with no more spontaneities. all those years summed up into the exchange of a single iron. a pink iron.
act 2:
you entered the studio that day and it filled the room. eyes locked and we understood. a kind of understanding that was hard to come by in those days. "we paid people 50 kuai to cry". leaving the party early i cycled to the apartment that night, shared by several, it was only you there, you and a dvd menu on loop, the same jingle over and over again, you kept emphasizing the word 'taken', 'taken', 'taken' – i guess it was the opposite of what i was getting – the other word that night 'transgressive' – you and bataille – he and whitman – i couldn't do it – sorry bataille – sorry whitman – i couldn't do it – so much for 'transgression' — whenever i revisit the room, you are both there, bataille and whitman, bataille, whitman and me and the king-size bed. the torrent of words finally gets me writing on afternoons alone in the house, just before the onset of twilight.
act 3:
a gallery space, half emptied out, i keep going back there, the mounted and framed photographs are placed on the floor, leaning against the wall, a few are supported by the pillar in the middle of the space, you try to get them to leave, to let them leave us behind, but there is simply no subtle way of doing it and you mutter at them clumsily, they leave, we are left, the afternoon sun is slowly disappearing, the lights are left off, we talk, walk around and shout, until we settle behind the reception counter, a chair and a wall for support, we can do this but we can't do that, what do you want from me? don't ask that of me! she tells me his knees were shaking all the way on subway ride back home, i was never shown shaking knees. now, i only ever meet you in that gallery space. we don't exchange words just glances and parts of our bodies in a deafening silence, the afternoon sun perpetually setting.
act 4:
an early spring evening, i keep trying to leave: "i have a party," "a party to go to," "a housewarming party", but something keeps me at your side all night, first we sit at the "less important people table" and are seated next to each other, after more guests stream in we are both upgraded to the "more important people table", again placed next to one another. what luck! finally settling into a comfortable position we continue our conversation, your leg brushes against mine a few times, i recall her remark about "woody men". and i can't stop staring at the eyes. can't stop. the whole night – no rooms here, but the chambers of eyes to revisit "an intense fiery sadness" i describe to her later "inside the palest of blue".
.
reply »
gliding over surfaces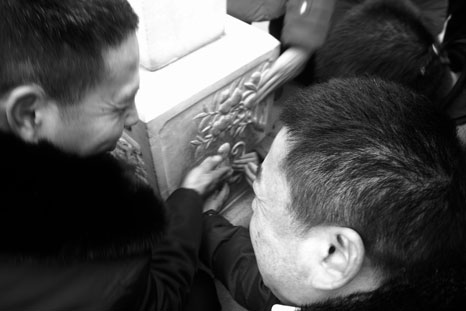 what is sustenance but rhythm, and if it's not there forced anyway, never listening, because one thought that rhythms should be maintained, like obligation, quitting all those times but never actually good at transitions. oh! all a front!
Posted by 丫 |
reply »
archival stuff: the elbows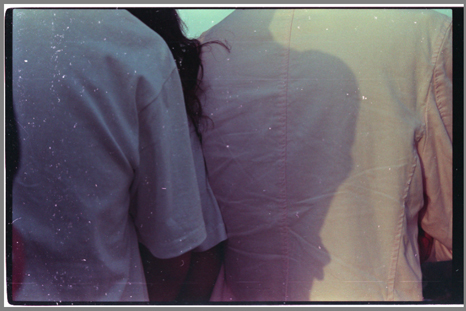 pending other posts, possible posts, about loss and grounding, and journeys, and drifting, always drifting, of course. an old image from the last days with the scanner at 12 warmington tower. i left london for beijing the day after. to return and to leave. a last one from this series before the year ends. this series that brought together and parted. a conversation with the silence of one. a silence that had started then and is still a silence today. before the year ends. the elbows. the scratches are from a long bout of forgetfulness resulting in negatives and prints being left at the konica place on dongsinandajie for nearly a year. upon returning i had still forgotten and was lucky that the staff had still remembered. scratches possibly from the tea flask of the guy with glasses, or a pair of scissors, an ice-cream wrapper, a pencil, the edge of the drawer, a quick doodle of a bunny rabbit, a paper clip, shopping or to do lists, an enlargement order, the order of a ballerina portrait to be printed on stone, slate stone, or bassie en adriaan or weiwei and her husband who also grace the interior of this store. not far from tiananmen. tiananmen. we spoke of tiananmen today. here. away. "yeah, you know that market, behind there, behind tiananmen square." "i can't remember the name." "the wholesale one." "no, not tianyi." "just a second, let me ask." …."xidan." "i went back in august this year and bought loads of things there." "there was this handbag i bought and everyone here thought it must be over a 1000 dirhams or something but it was only 70 kuai." we speak of inflation at the dinner table. the elbows. the elbows resting on the edge. the elbows of a you i have left. a you who was not there on this day. a you who's elbows are in a far darker place than merely the shadow cast upon us by someone standing behind.
Posted by a |
more »