les mains négatives

by marguerite duras
Posted by f |
reply »
the light of day – or, the most intense fiery sadness inside the palest of blue
the difficulty of writing. therefore words become physically written entities. are animated by the postures and movements of the hand. the word becomes image. is placed in perspective. the natural rhythms of speech and of reading contorted. a video on writing:
act 1:
the street is where it finally played out, no confining corners of a room, simply a street and a doorstep and a door. a door that remained closed. closed that night and all the nights after. closed for several years. there were a few words there on the street, an evening chill picking up, words uttered from mouths tightly locked into position, not once breaking out into smile, no more spontaneities. now i remember it was an iron. the last object that passed between us. an iron. your iron. my iron. no ironing board. the irony. an iron with no more spontaneities. all those years summed up into the exchange of a single iron. a pink iron.
act 2:
you entered the studio that day and it filled the room. eyes locked and we understood. a kind of understanding that was hard to come by in those days. "we paid people 50 kuai to cry". leaving the party early i cycled to the apartment that night, shared by several, it was only you there, you and a dvd menu on loop, the same jingle over and over again, you kept emphasizing the word 'taken', 'taken', 'taken' – i guess it was the opposite of what i was getting – the other word that night 'transgressive' – you and bataille – he and whitman – i couldn't do it – sorry bataille – sorry whitman – i couldn't do it – so much for 'transgression' — whenever i revisit the room, you are both there, bataille and whitman, bataille, whitman and me and the king-size bed. the torrent of words finally gets me writing on afternoons alone in the house, just before the onset of twilight.
act 3:
a gallery space, half emptied out, i keep going back there, the mounted and framed photographs are placed on the floor, leaning against the wall, a few are supported by the pillar in the middle of the space, you try to get them to leave, to let them leave us behind, but there is simply no subtle way of doing it and you mutter at them clumsily, they leave, we are left, the afternoon sun is slowly disappearing, the lights are left off, we talk, walk around and shout, until we settle behind the reception counter, a chair and a wall for support, we can do this but we can't do that, what do you want from me? don't ask that of me! she tells me his knees were shaking all the way on subway ride back home, i was never shown shaking knees. now, i only ever meet you in that gallery space. we don't exchange words just glances and parts of our bodies in a deafening silence, the afternoon sun perpetually setting.
act 4:
an early spring evening, i keep trying to leave: "i have a party," "a party to go to," "a housewarming party", but something keeps me at your side all night, first we sit at the "less important people table" and are seated next to each other, after more guests stream in we are both upgraded to the "more important people table", again placed next to one another. what luck! finally settling into a comfortable position we continue our conversation, your leg brushes against mine a few times, i recall her remark about "woody men". and i can't stop staring at the eyes. can't stop. the whole night – no rooms here, but the chambers of eyes to revisit "an intense fiery sadness" i describe to her later "inside the palest of blue".
.
reply »
measures of resistance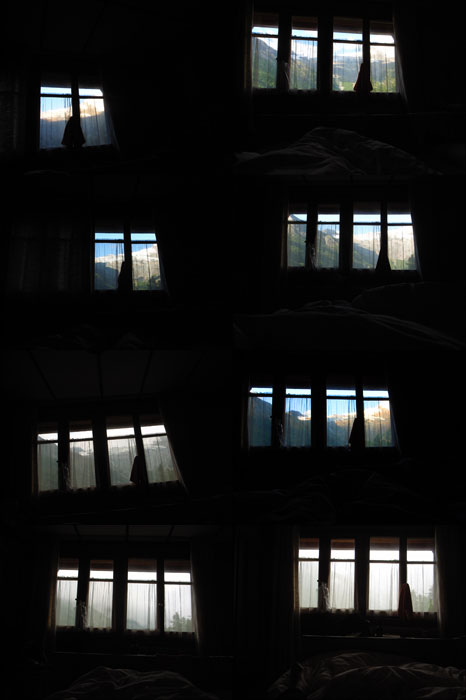 Posted by 丫 |
reply »
Zürich night
Photo courtesy of Nic Shepherd
Some 15 minutes after having been abandoned at the Perla Mode by an American living in Zürich, I found him again at another opening at a small exhibition space called Les Complices. He made some comment about how I was typically Canadian because of the desire I expressed (which admittedly had structured my last 5 years) to keep going out rather than back to North America. I had not assigned value to my statement, and in my view it could indeed be taken as a lack of control and capriciousness. The space, which had a DJ playing, was a queer art space. I was not sure if my jocular, drunk brotherness was appreciated, and I was in the mood to joke. Out front one of the drunk women, who turned out to be a Canadian from Montreal, tried to convince her acquaintances to go out to a non-gay place to dance. She appeared to be quite drunk, and unless I was mistaken, the other two were not very fond of her. She had pimples. The other two returned to their friends inside and I was left, so she asked me and I thought, why not, I'd like to go dancing. We walked arm in arm down the street to a place right on Langstrasse. She joked with the bouncer who tried to remain stern, they were obviously familiar with each other, and it made me feel that this was a small town. Inside it was hip hop night, and various large men rocked back and forth in the red velvet surroundings. She knew someone (although they claimed they hadn't known each other before) and they began talking. She asked me to buy her a drink, but I really had no money on me. This other girl seemed to be looking for someone to go home with. They asked me if I wanted to fuck, said that it was what everyone in the room wants. I joked that I was a virgin and the girl believed me, appeared to take pity on me, which made me uncomfortable – when I retracted the statement she asked me what kind of lover I was. I motioned to some of the large men standing near the turntables "maybe they want to fuck." She considered this and went to see about it. When the lesbian's back was also turned I used the opportunity to slip out the front door with my backpack on. I walked home along the vacant street car lines. I kept thinking of the girl's sad expression when she said she came to the bar quite regularly, but no one had interest in fucking her. It made me kind of sad too.
[courtesy of Michael Eddy, October 2009]
Posted by secretary |
reply »
to find and not find the centre of things, all things aside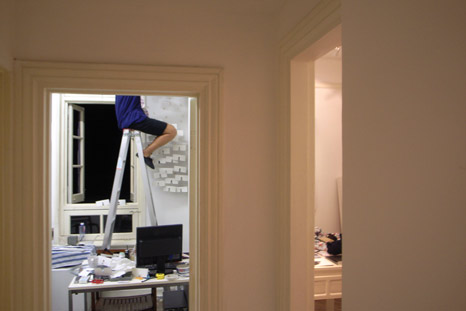 above: putting up the exhibition (photo by 高灵 Gao Ling); below: walking back after finishing the installation | 上海 shanghai,2009年9月
i am sorry. time is everything.
cannot go there, too much or too little, traveling, hanging there, a collection, hanging on. i seem to have an affinity for stories of people getting lost, perhaps a bit too direct a reference yet were i to introduce myself to you as that one who liked to find this little thing in the street it perhaps would remain too ridiculously nebulous.
direct.
direction.
we would have been looking in the wrong direction to go astray, to find the beside. aside, as in put in reserve, for future use, the collection of objects for which we may find value or function at another time. we never know what will become useful in the end, or the lessons come too late, i feel the top of her head and wonder what positions i layed in as a child, what positions i moved in sleep, next to you or dreaming without you. we cannot always think so functionally, in love and in war. i don't strategize very well. but we may very well have a hunch.
a hunch is an open space of time, a forethought without expectation, like a collection of random things for which we may find use later. i suppose it could be important to figure out how to make use of them, but perhaps their being together could be enough. find meaning beyond use value, a cabinet of curiousities, our collection of oddities.
that's the thing i've been missing lately. to take time for my collection of oddities, to try to go back to a certain kind of objectivity without expecting too much. i have a hunch. perhaps i was looking in the wrong direction and now find myself lost, a story that i liked to hear, her voice in two languages on loop. it's my own aside that is now addressed to you, without letting the other characters hear, a story shared without knowing if anyone is listening. you, dear audience member or director, the lights are shining so bright…i cannot see if you are out there.
Posted by 丫 |
reply »
in praise of shadows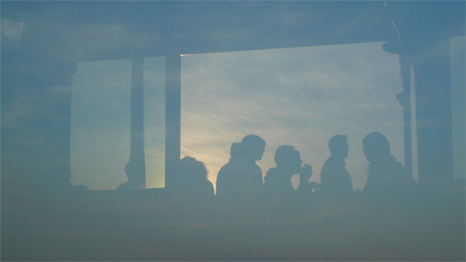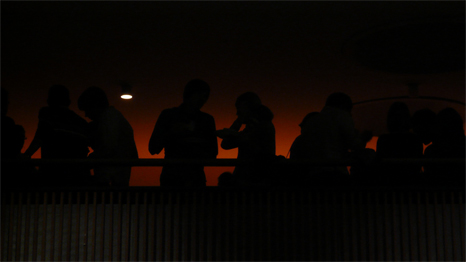 Posted by toby |
reply »
icarus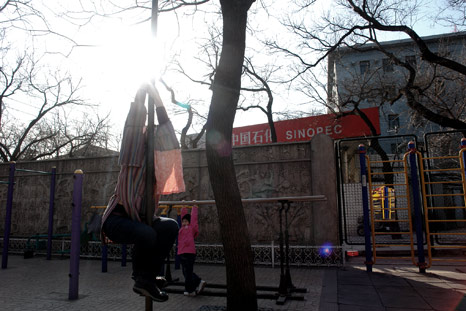 "Did I really speak? Have I ever really spoken?"
Posted by 丫 |
reply »
please meet here and now
An Appointment
Alexanderplatz, Tuesday, 27 January 2009, 18.00
[photo by 高灵 Gao Ling]
This is your latest minute notice to our meeting and appointment. Please come to Alexanderplatz station, the platform of the U8 line, between Le Crobag bakery and the Presse + Buch shoppe. Apologies for having been so late all the time lately, does 18.00 sound like a weak quantification of all the things i haven't caught up to yet?
Please meet me, even if we don't know one other. No one knows each other here, so let's just try to remember that fact of all that we know we don't know, that feeling that you next to me may have noticed it, too.
Mostly we're ignorant. But I wanted to meet you anyway, an appointment in and of itself as a time and place predetermined. A context embedded into itself, choking, documented. Itself, itself, itself.
And a broad, come with—-first-time everything…
——–
An Appointment is part of the continuing PUBLIC research project by Elaine W. Ho and Fotini Lazaridou-Hatzigoga. Organized as a daily series of experiments, interventions and discourses, PUBLIC aims to examine the potentiality of latency and open spaces made possible in the relations between individuals and publics. Other activities are posted here. Some are open invitations to all, others are unannounced insertions in different locations throughout Berlin. 22 January – 1 February 2009.
Posted by 丫 |
more »