A project about losing one's context. Paris, FR, 2006.
collaboration of
supersomething
and members of CHAN studio: Carlotta Borg,
Amandine Chhor
,
Edmund Fung
(music), Giulia Grossmann (video, Paris performance)
César Harada
, Eva Küpfer (choreography),
Aissa Logerot
(lighting),
Pedro Rosa
(concept, dramaturgy),
Simone Truong
(choreography) and 山口明香
Asuka Yamaguchi
(costume, scenography)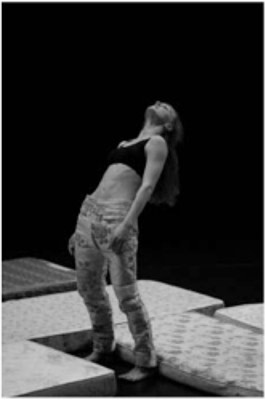 Tous ces artistes se produisent sur scène pendant le spectacle. Nous habitons des pays différents: France, Japon, Pays-Bas, Angleterre, Portugal, Hong-Kong... Nous travaillons en réseau et nous manipulons l'information, nous nous manipulons les uns les autres, beaucoup de malentendus formidablement productifs. Nous sommes intéressés par ces moments où nous perdons le contrôle, déstabilisés. Nous multiplions les expériences sensitives pour les danseurs et pour le public. Nous dissolvons les limites du format ainsi que les couples conventionnellement en opposition: équilibre / déséquilibre, mobile / statique, performance / vie, performeurs / public, scène / salle, ordre / désordre, propre / sale, présence / abscence.
Performances:
15 June 2006 | ENSCI Paris, FR
26 October 2006 | Kunstraum, Baden, CH
documentation video [rehearsals and ENSCI performance], 8'07"