A bootleg project. Beijing, CN, 2005.
by
崔凯旋 Cassidy Cui
,
何京蕴 Anouchka van Driel
,
何穎雅 elaine w. ho
,
刘畅 Chang Liu
, 李心路 Maya Li, 鲁飞飞 Fei Fei Lu, Dennis Reudink, 石头 Stone and Stella Wi
photos taken by
高氏兄弟 the Gao brothers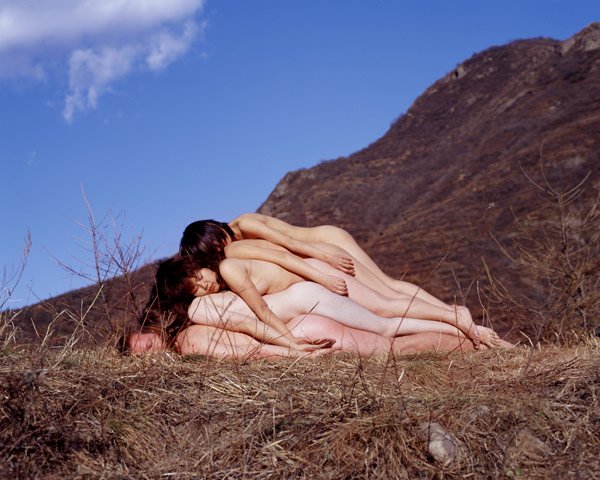 In 1995, artists from Beijing's East Village art community gathered together for what was to become a seminal work among contemporary Chinese avant-garde art. The performance took place atop a hill on the outskirts of Beijing, where the ten artists documented
a series of actions entitled 《为无名山增高一米》 ("To Add One Meter to an Anonymous Mountain")
.
The original participating artists were 王世华 Wang Shihua, 苍鑫 Cang Xin, 高炀 Gao Yang, 祖咒 Zu Zhou, 马宗垠 Ma Zongyin,
张洹 Zhang Huan
, 马六明 Ma Liuming, 张彬彬 Zhang Binbin,
段英楣梅 Duan Yingmei
and 朱冥 Zhu Ming.
Before it even made it to the public, the artists went under intense discussion as to how the value and rights of such a photograph could be maintained. The artists knew they had a master work in their hands, but being a photograph, they knew it would be crucial to limit the number of prints in order to preserve the market price of each. There were a lot of disagreements, and now, many of the original artists continue to have lingering bad memories of the "making" of this work. But it was finally settled. Each artist would have the right to five original prints of each of the chosen photographs, to exhibit and sell under their own name.
move your cursor over thumbnails to view images.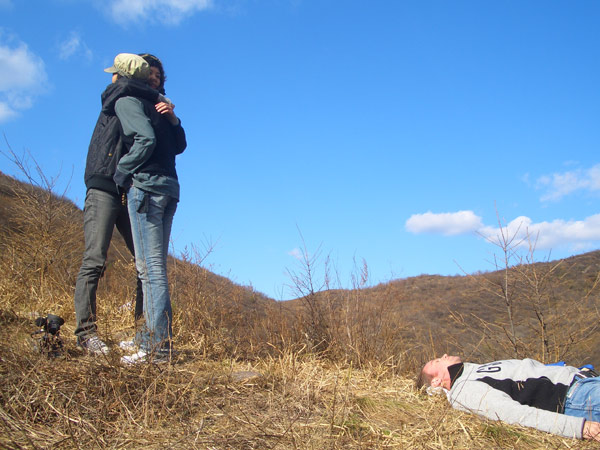 2005, Beijing.<
We had been working on with the series of bootlegs for awhile, and it came in conjunction with the inclusion of one of the original copies of
To Add One Meter to an Anonymous Mountain
in the Commonplace exhibition that we might try to bootleg this as well. These bootlegs are not meant to be "exact" copies, and we were curious to explore the differences elapsed from reworking the piece exactly ten years after the original, as a question of how Chinese art had changed over one decade. In those ten years, the market had exploded, and
To Add One Meter to an Anonymous Mountain
was now fetching prices as much as 8,000 USD. But where was the avant-garde?
Playing off the fame and value of the original work would be a way to help our show as well as raise money for the
Stars and Rain NGO
which the exhibition was to benefit. But we were hesitant. Perhaps it would be too much of a media trick, as making a bootleg of this piece could create a bit of controversy among the Chinese art world, and this would detract from the original motivations of curating a project to bring autistic children together with artists and raise awareness of autism in China. We were also concerned about offending
Ying Mei Duan
, who had generously donated the original to be auctioned in the exhibition.
But after a lot of discussion among us and with Ying Mei, who turned out to be completely supportive and encouraging of the idea, we decided to give it a try. We were a group of friends, naïve and excited to try something out. Perhaps not so different than the original artists had been ten years ago. And maybe like they had, our mutual excitement soon turned sour, and a day spent disagreeing about the organisation of rights to our bootleg led to us removing the new piece from further pursuit and inclusion in the exhibition. Unlike the original
To Add One Meter to an Anonymous Mountain
, our version was never settled. But some of us continue to have lingering bad memories of the making of this work.
At this moment, most of us no longer have any claim on the work. The documentation here serves merely as story.
In 2006, images of our endeavor appeared in the Gao brothers' exhibition entitled
Body Trope
at their gallery in the 798 Arts District in Beijing. At the time of creating the bootleg, they had agreed to take the photographs merely as friends with no claims of authorship, and seeing the work now in this way felt somehow like a violation of an albeit unspoken trust. An internet
letter of protest
was published, and
subsequent criticisms
were written in retaliation.
A few months later,
another group of Chinese artists made their own bootleg of To Add One Meter to an Anonymous Mountain
.
Nothing has ever been settled.