An exercise project. Beijing, CN, 2005.
by
崔凯旋 Cassidy Cui
,
何京蕴 Anouchka van Driel
and
何穎雅 elaine w. ho
digital video, 5' excerpt from 20'11"
This work is a documentation of a series of 生活盗版, or 'life bootlegs', recorded and performed in various locations in Beijing during the summer of 2005. The capturing of these mundane physical activities involving exercise and play was inspired by the coming of the 2008 Olympics, an event for which the entire city has been preparing and a catalyst of the last few years' desperate desire for representation of a world-worthy Beijing. By creating copies of these basic gestures within public space, such representation is distanced from the reality, and we must look for what small truths may or may not exist between what we conscientiously attempt to do, and what simply is.
这个作品是关于"生活盗版"的系列纪录。在05年的夏天,我们盗版了北京各处的城市生活细节。我们录下那些无聊的生活,人们在运动和休闲中迎接奥运会的到来。在为奥运会准备的那几年里,中国不顾一切的表现自己是一个有影响力的国家。在观看那些城市生活的盗版中,我们能够更好的感受现实与视像的区别。也许我们能够发现,那些小小的真实就存在于视像与现实之中。
Shown in parts as 2-channel video work (approx. 5') and inkjet prints on paper, for giveaway, at Galerie Aube in Kyoto, Japan, 2005-2006.
A new edit of this work was shown as a 2-channel video piece as part of the '07 Independent Screenage Document exhibition, November 8-23 2007, 北向阳光艺术空间 Northern Sun Art Space, Beijing Songzhuang and in December 2007 at Open实现 Art Space in the Dashanzi Arts District, Beijing.
这部作品被重新制作成了一部双频道录像,作为2007年11月8日至23日在北京宋庄北向阳光艺术空间07独立影像纪录展和12月1日起在大山子实现艺术空间的参展作品。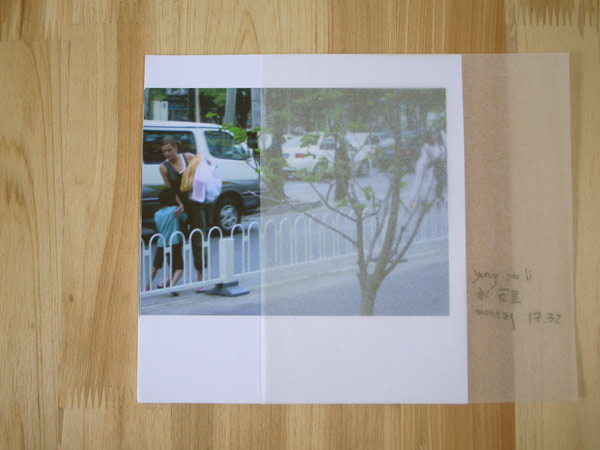 Move your cursor over thumbnails to view images.