A clothing catalogue project. Kyoto, JP, 2006.
by
Anouchka van Driel
, 林朋子 Tomoko Hayashi,
何穎雅 elaine w. ho
, 小林香利 Yukari Kobayashi,
Fotini Lazaridou-Hatzigoga
, 王颖 Vicky Wang,
山口明香 Asuka Yamaguchi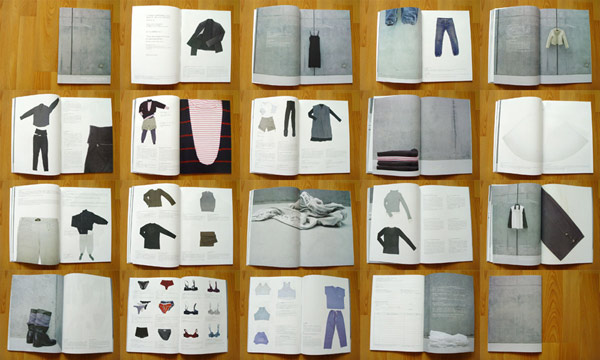 [click for larger image]
All items from one person's wardrobe are reinserted into market circulation by means of a mail-order magazine. Product placement, styling and the language of fashion turn history, memory and wear back towards the anonymity of manufacturing processes and design detail.
Printed in an edition of 300, copies to be given away as per availability. For inquiries or more information, contact wear[at]iwishicoulddescribeittoyoubetter[dot]org. Kindly supported by the
International Research Center for the Arts, Kyoto
.
Items were sold and/or given away to customers at the same cost they were originally acquired, and participants were asked to photograph themselves with their new purchase. Move your cursor over thumbnails below to view selected participants below: