A project about fashion. Beijing, CN, 2007.
by
何京蕴 Anouchka van Driel
,
何穎雅 elaine w. ho
,
長岡法秀 Hoshu Nagaoka
and 谢婷婷 Hailey Xie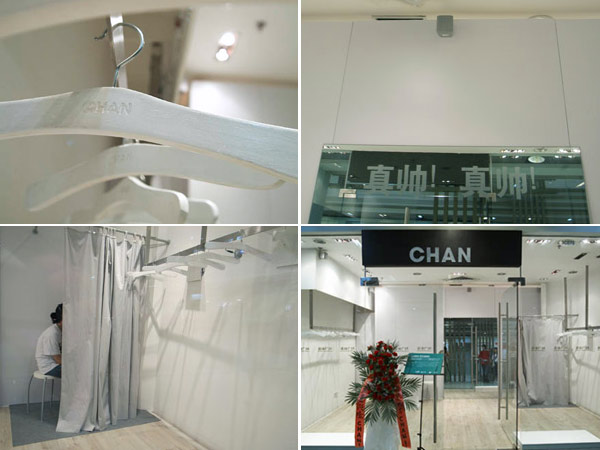 选择城市名称,以浏览更多图片
Mouse over city for views from installation in --> Guangzhou, Shanghai, Beijing, and Chengdu.
audio excerpt from installation, 07'18"
可持的设计并不总是存在。当销售成为首要目的,视觉的诱惑和交易的快感都被纳入考虑范围,唯独没有对未来的期望。
交易可以周而复始。
但如果我们想要的不只是新鲜感,可以吗?"持续"这个概念能否在交易后帮助我们维持关系,感受时间的流逝和延续?
我们是否能像记忆过去一样感觉未来?
因为,一切都在周而复始着。
CHAN的货架上没有衣服,店里也没有过分热情的导购和任何时尚的痕迹,取而代之的是一系列录音。您能听到许多普通人关于他们的衣服的自白,而在那背后是与服装行业密不可分的日常生活。在我们的店里,所谓的服装设计不因潮流而存在。它或许存在于您的记忆和经历里,远比任何销售数字更加永恒。
Sustainable design doesn't always exist when we have to sell products as first priority, when the moment of attraction, and transaction, are all that counts. There is no future.
We can buy again and again.
But if we wanted something more, could a promise be made? Can sustainability enter the market in terms of lasting relationships, finding continuity and the passing of time?
Would we be able to connect to the future as much as we remember the past?
Things turn over again.
There is nothing for sale in the CHAN shop, no fashion images and no pushy sales attendants. The installation presents a series of recordings made from conversations with people about their clothing and the way that the manufacture of garments relates to the most intimate parts of everyday life. Fashion design and the clothing industry exist here outside of trend, perhaps in a space where memory and experience can outweigh a sales figure or another quick turnover.
On exhibition at
Get it Louder 2007
:
Guangzhou June 23 - July 8, Grandview Mall
广州 6月23日 - 7月8日, 正佳广场
Shanghai July 21 - August 4, Daning/The Life Hub
上海 7月23日 - 8月4日, 大宁国际商业广场
Beijing August 16 - September 1, SOHO Shangdu
北京 8月16日 - 9月1日, SOHO尚都
Chengdu September 13 - September 25, Bailian
哇哇Tianfu Shopping Mall
成都 9月13日 - 9月25日, 百联天府购场中心
And an enormous thank you to all those w所有å谢¸®助过chan布展:
梁健华 Sammi Liang (Guangzhou), 朱玉婕 Yujie Zhu & 阿pet (Shanghai), 王颖 Vicky Wang, 王颖的妹妹 Vicky Wang's cousin, 麦颠 Dian Mai &
小蔡 Xiao Cai
(Beijing).