A project about a small town in Nebraska. 16:9 digital video, 23 min, USA, 2007.
by
Fotini Lazaridou-Hatzigoga
and
Toby Lee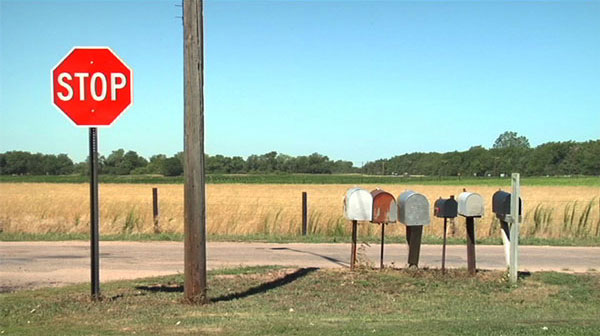 video stills
Royal is a small town that sits on highway US-20 in northern Nebraska. Barely three blocks wide and four blocks deep, with a mostly elderly population of about 70, Royal is the kind of town that is often passed by on the way to another place. Trucks and travelers speed past its abandoned buildings and empty lots, between the endless fields and vast blue skies of the Great Plains.
Countless towns like Royal dot the landscape of rural America. Their populations steadily dwindling, they are usually written off as dying towns, the casualties of changing social, economic and agricultural landscapes, but beneath this first impression lies a more complex picture. A closer look reveals a subtle humor and beauty that emerge from the town's quiet pace of life and the stories of its residents. Time passes by at the post office, church, hair salon, the tiny public library. Virginia remembers a time when Royal was a lively rural center; Jimmy Z recalls meeting girls at dances and gambling to save a date; Bill and Helen tell us about the town's original streaker; Dwayne and Arvin describe the town's last car heist. These stories reveal a past and way of life that are irretrievably lost, leaving in their wake a certain melancholy, but also an unexpected richness. In a town like Royal, the past enlivens the present, for those willing to slow down and take a closer look.
A portrait of everyday life in small-town America,
Royal
is also a film about memory, community, the passing of time, and the value of looking again.