An unheimlich home project. Zürich / Beijing, 2007-2010.
by
何穎雅 elaine w. ho
,
張秀娥 monika truong
and
张秀芳 simone truong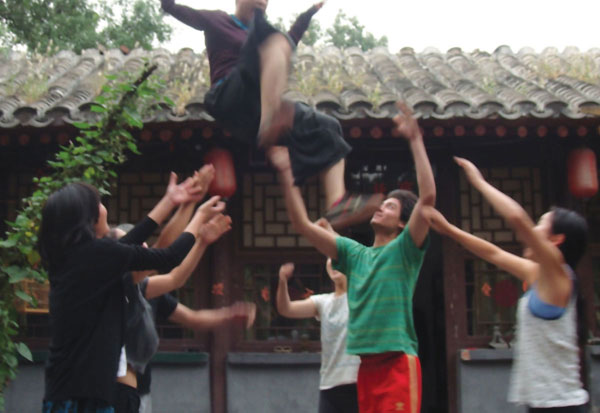 我们在一起时会有什么发生?会有什么渠道相互交错?亲密关系是怎样建立起来的?是什么限制了彼此的共处?普通和特殊之间存在着什么?欢迎金秋2009年10月份来了互助巷八号与我们一起共享晚餐,分享熟悉而且新颖的体验…………
What happens when we spend time together? What paths are crossed, how is intimacy created, what are the limits of togetherness and what spaces lie in between the ordinary and the extraordinary? In October 2009, guests joined us for dinner at the courtyard at Huzhu Xiang 8 to share an experience with us, both as a familiarity and as something completely new.
elsewhere
/
www.overseasproject.net
/
www.iwishicoulddescribeittoyoubetter.net/overseas
/
blog.sina.com.cn/overseas2009beijing
"OVERSEAS, CLOSE BY"
The OVERSEAS project began in 2008 as a performance arts project by three creators of the Chinese diaspora, their shared background as the starting point and from whence the overall name OVERSEAS is derived. This blog is an ongoing documentation, place of exchange, and dropbox of ideas and inspirations for the two-year project.
The term 'overseas' references those of Chinese heritage living outside of China, but rather than any claims to a particular identity, it is how we go beyond it towards relating to one another that remains the focus of our work. Identity can be a daily routine, it can be a performance. But the context, and the strength of the relation, are what enrich the process.
Since 2008 OVERSEAS developed as a series of workshops, movement research and video explorations between Zürich and Beijing. Investigations have brought the team into the very heart of the old capital, and since August of 2009 the initiators and a team of local Chinese artists and performers lived and worked intensively within a traditional courtyard in the center of Beijing, using the site as workspace, living space and point of inspiration for a series of confrontations and exchanges between daily life and representation, language and meaning, the ordinary and the extraordinary. The result was called
OVERSEAS, CLOSE BY
, a multidisciplinary event combining an evening of food and friends with visual arts and performance.
《OVERSEAS:里九外七》
由何颖雅、张秀娥和张秀芳共同合作发起的艺术和表演项目OVERSEAS开始于2008年,他们三个人共同具有在国外成长和接受教育的华人背景,这一身份既是她们开始合作的基础,也是该项目的总概念"海外"的来源。
"海外"这个词指的是在中国以外生活的具有中国血统的人群,它不是一个对特定身份的介定。而我们如何超越一个身份来与彼此发生关联,这是我们创作的核心。身份可以是日常的,它也可以是一个表演。但其存在的语境和所蕴涵的关系的力量才能够让过程更加丰富。
从2008年起,OVERSEAS在苏黎世和北京之间展开了一系列的工作坊、关于运动的研究和录像纪录。整个团队最后在老北京的中心集合。从今年的8月起,该项目的发起人和中国艺术家和表演者在北京中心一个传统的四合院里一起紧密地生活和创作。让他们所在的场所同时扮演工作的所在地、生活空间和灵感的源泉等多样的角色,在这个空间中,日常与表现、语言与意义、普通与非凡进行对峙与交换。《OVERSEAS:里九外七》是一个跨界的项目,是一个提供将美食、朋友和视觉艺术与表演结合起来的夜晚。