A project about personal soundtracks. 2004-ongoing.
by
何京蕴 Anouchka van Driel
,
何穎雅 elaine w. ho
and 向井 徹生 Tetsuo Mukai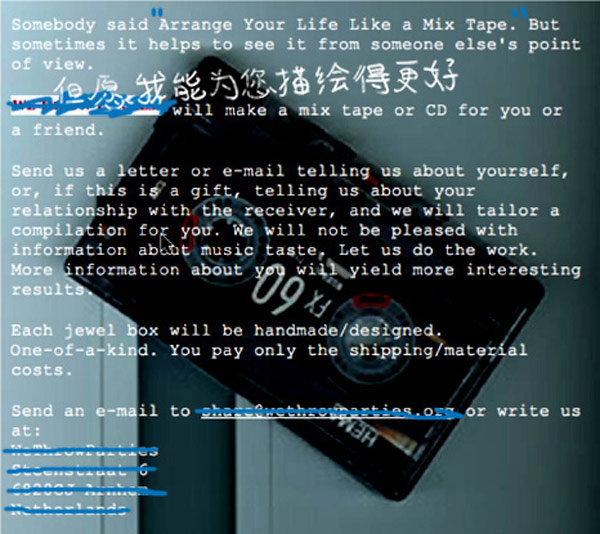 A series of commissioned dedication soundtracks, or, just getting to know you better. Perhaps the even more D.I.Y. predecessor to
iwishicoulddescribeittoyoubetter number two
.
Previous recipients include: bernadette & lorena (under the guise of 40 year olds trying to be young again), jasmina (a brave girl), anouchka & john (their short interlude), susan & michael (high school sweethearts), denis (cried on the airplane) and vali (a lover of forests and ice cream). mr. white and jj, we haven't forgotten you (or the 10 euros). We apologise for the delay, the scenery keeps changing.
This offer is still valid. Send your e-mail requests to o[at]iwishicoulddescribeittoyoubetter[dot]net.
Move your cursor over the thumbnails below to see some of the covers made: